About Kristen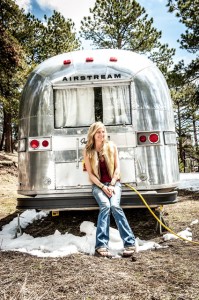 After losing her dream home and all her worldly possessions to a raging and sudden wildfire that killed three people and demolished 21 homes, Kristen Moeller dove headfirst into an exploration of our cultural discomfort with grief, the existence of God, finding humor in the midst of tragedy – and what it means to be a human being with all our fabulousness as well as frailties.
Drawing on her two decades of training in psychology and personal growth as well as her own recovery from addiction in 1989, Kristen is a voice for the countless others who beg to be heard in their wild journey through this wacky world.
During her TEDx talks, stand-up comedy routines as well as appearances on local TV and newspapers, Kristen shares her hard-earned wisdom coupled with a spirited inquiry around the raw emotions we encounter when dealing with life's ups and downs.
As part of her commitment to others finding their own path to freedom, Kristen founded the Chick-a-go Foundation (now The Transformation Foundation) which provides 'pay-it-forward' scholarships to transformational education programs.
A bestselling author, book publisher, speaker and radio show host with a Masters in Counseling, Kristen spends her downtime time between a yurt in Colorado and a sailboat in the Bahamas.
Kristen's latest book What Are You Waiting For? How to Rise to the Occasion of Your Life was released in November 2013 by Viva Editions.
Testimonials
"Kristen Moeller's ability to tap into one of the great longings of human-kind—that somehow what we've got now is never enough—is riveting. I love her courage in tackling this big subject, the intimacy of her voice (she's been there and we know it!), and her far-reaching wisdom. Thanks, Kristen, for putting our longing into words and helping us navigate our way through it. I'm done 'waiting'!"

—Suzanne Falter-Barns, author of How Much Joy Can You Stand
"Great Book from a Real Person – This is a super book. All of these "self-help" authors seem to have the perfect system and perfect life. Sometimes when you read their books it's as if they never have a bad day and nothing ever goes wrong. Kristen is a real person. This lady hasn't had a perfect fairytale life of bliss. She is more like you and I than any self-help author I have ever read. To read about her life struggles and how she overcame them and stopped "waiting" is very helpful.

If you have ever felt the need to get everything perfect in your life prior to going after your dreams, passions, or goals this is the book for you. It's not about getting life perfect before starting. It's about stopping the waiting and living!"

—Dennis Hohman
"After hearing Kristen (she is an amazing speaker) speak at Author 101 University, I just HAD to get her book! "Waiting for Jack" is a page turner! Kristen grabs your attention from the beginning with her story about meeting Jack Canfield for the first time and how that meeting allows for a new path to unfold in her life. However, this book is about more than one "Jack" and you will be entertained and inspired as Kristen takes you on a journey of self discovery and the opportunity to ask yourself this question, "What am I waiting for?"

I highly recommend this book to anyone who feels stuck…or feels like they are waiting for something or someone to give them the next step in their lives. "Waiting for Jack" will change your life. I'm not waiting anymore!"

—Ursula Mentjes
"I recently completed a 12 week, life mentoring course with Kristen Moeller and this course was one of the best things I have ever done for myself. I can say this, even though I have done many things to improve my spiritually and professionally life over the last fifteen years.

…since completing my work with Kristen, I have been busy using my new power to create a dream life for myself. It has now been five months since I began working with Kristen and two months since I finished. My life is totally different than before our work together. I have found the woman of my dreams. New wealth has occurred, as a defaulted note that I held, has been resurrected. My career is now on track and I have been elected to a prestigious board seat. How much of all of this can be attributed to working with Kristen? I can't say with any certainty, but my gut feeling is, that it is everything.

I am thankful for the work I did with Kristen and believe that it was Divine Guidance that she came into my life. I also believe that she can achieve similar results for anyone that is open minded, willing to do the work and sincerely interested in a better life."

—TE, Stock Broker, Cincinnati, OH
"I am writing this letter to acknowledge you, Kristen, my for what you have provided to me throughout this beautiful journey. Thank you for your unconditional love, support, respect, trust and your amazing commitment to what is possible for me. I am proud to be walking this planet Earth with you. Thank you for you, Kristen."

—CJ, Project Coordinator, Denver, CO
"Kristen Moeller's mentoring method is amazing…she's extremely compassionate and empathetic while being unwaveringly rigorous and…well…tough. My life is unrecognizable to me after working with Kristen and I have begun to master the tools in distinguishing the thought processes that I've constructed throughout my life that stop me from being my most vibrant and expressed for the world. The results in my life after working with Kristen are nothing less than transformational and I have much gratitude towards her commitment to others living their best life."

—SS, National Marketing Manager, Denver, CO
"The mentoring I have received from Kristen has been invaluable. She not only showed me how to step outside myself and see what was really possible but she showed me my truth and that I was really capable of so much more than I ever thought possible… she can get to the core of you in seconds, see your truth and show you what you've been missing. She has the ability to show us the light in all of us."

—JG, Business Owner, Conifer, CO
"This mentoring process with Kristen has been inspiring! As I re-read my homework assignments I am in touch with my dreams. Kristen has been both kind and fierce in taking a stand for my growth. She has been loving and flexible, committed to this process for both me and for her. She has never asked me to take on anything that she wasn't willing to take on for herself. Even though I'm continually in process with my stated goals that got me into mentoring, I have discovered deeper, even more meaningful truths that serve as my north star. Kristen's thoughtful and challenging exercises help remind me that I truly am love."

—BT, Psychologist, Denver, CO
Featured On: