Writing Retreat. Adventure Travel. Transformational Journey.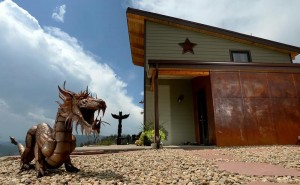 As featured on A&E's Tiny House Nation, welcome to the "Tiny Mansion", perched on the edge of forever, with sweeping views and the perfect mixture of creature comforts and wilderness setting. Settle down on the sun-filled infinity patio, in the shade of the yurt, in a hammock, or find a place all on your own.
"I went to the woods because I wished to live deliberately, to front only the essential facts of life and see if I could not learn what it had to teach, and not, when I came to die, discover that I had not lived." ~ Henry David Thoreau
Are you called to leave a lasting legacy?
Have you ever dreamed of writing a book?
Can't quite find the time to start it?
Don't even think you can write?
No one needs to run away from it all to write a book but what if you could…. even for a weekend.
At Firewalker Writing Retreats, you will write in the company of women, at your own pace and with your own process. Receive gentle guidance to prompt you to dig deeper than you have before, drawing inspiration from both the devastation of the fire-ravaged land and the expansive beauty of our mountain paradise.
"Everyone needs a "Waldon Pond" of his own, a real or metaphorical place where you can take stock of your life and find sense of purpose and values by which you can live." ~ Thomas Moore

Firewalker Writing Retreats – An opportunity to unplug, to write, to connect with nature – to re-connect with yourself.
 *At this time, retreats are limited to current clients. Fill out an application here to find out more about Kristen's Ignite Your Legacy™ writing programs and Firewalker Writing Retreats™
To read more about the story of the Tiny Mansion, please click here
To watch our "Tiny House Nation" episode on iTunes please visit: https://itunes.apple.com/us/tv-season/500-sq-ft-rocky-mountain-mansion/id889663587?i=909140014
Our episode is "500 Square Foot Rocky Mountain Mansion".  You can find it on YouTube as well.